Database access error
Ошибка Access: «Запрос поврежден»
Последнее обновление: 9 декабря 2019 г.
При попытке выполнить запрос на обновление может отображаться ошибка: «Запрос «имя запроса» поврежден».
Это происходит для запроса на обновление, который:
Обновляет одну таблицу (т. е. он обновляет таблицу, а не результаты запроса на выборку или присоединение
Указывает предложение WHERE (т. е. содержит записи в строке «Условия» в конструкторе запросов)
Эта проблема влияет на все поддерживаемые сборки Access.
Эта проблема возникла 12 ноября 2019 г. при применении следующих обновлений для сборок MSI:
Office 2010: описание обновления для системы безопасности для Office 2010: 12 ноября 2019 г. (KB4484127)
Office 2013: описание обновления для системы безопасности для Office 2013: 12 ноября 2019 г. (KB4484119)
Office 2016: описание обновления для системы безопасности для Office 2016: 12 ноября 2019 г. (KB4484113)
Office 2016: 12 ноября 2019 г., обновление для Office 2016 (KB3085368)
В таблице ниже указаны даты и номера сборок для самого раннего доступного обновления, но для сборок MSI указанное исправление не является обязательным, и оно должно применяться вручную. Существует обновление системы безопасности от 10 декабря для сборок MSI, предоставляемое в службе WSUS и устанавливаемое автоматически, которое исправляет эту проблему:
2010: KB4484193 — сборка 14.0.7243.5000
2013: KB4484186 — сборка 15.0.5197.1000
2016: KB4484180 — сборка 16.0.4939.1000
Эта проблема будет устранена для всех версий:
ПРИМЕЧАНИЕ. Если при попытке применить исправление появляется сообщение «В системе не установлены продукты, к которым можно было бы применить этот пакет», причиной может быть использование установки Office с технологией «нажми и работай» (C2R), а не установки MSI. В этом случае воспользуйтесь соответствующими инструкциями для версии C2R после выхода исправления.
Официальная ссылка на исправление проблемы
Access 2010 MSI, распространяемый пакет ядра СУБД Access 2010
27 ноября 2019 г.
Access 2010 C2R
10 декабря 2019 г.
Выберите «Файл»/»Учетная запись»
«Параметры обновления»/»Обновить»
в приложении Office
Access 2013 MSI
27 ноября 2019 г.
Access 2013 C2R
10 декабря 2019 г.
Выберите «Файл»/»Учетная запись»
«Параметры обновления»/»Обновить»
в приложении Office
Access 2016 MSI, распространяемый пакет ядра СУБД Access 2016
18 ноября 2019 г.
Access 2019 с корпоративной лицензией
10 декабря 2019 г.
Выберите «Файл»/»Учетная запись»
«Параметры обновления»/»Обновить»
в приложении Office
Access для Office 365, канал Monthly Channel/Access 2016 C2R/Access 2019 (версия 1910)
18 ноября 2019 г.
Выберите «Файл»/»Учетная запись»
«Параметры обновления»/»Обновить»
в приложении Office
Access для Office 365, канал Semi-Annual
(версия 1902)
22 ноября 2019 г.
Выберите «Файл»/»Учетная запись»
«Параметры обновления»/»Обновить»
в приложении Office
Access для Office 365, канал Semi-Annual Extended
(версия 1808)
22 ноября 2019 г.
Выберите «Файл»/»Учетная запись»
«Параметры обновления»/»Обновить»
в приложении Office
Access для Office 365, канал Semi-Annual Targeted (версия 1908)
22 ноября 2019 г.
Выберите «Файл»/»Учетная запись»
«Параметры обновления»/»Обновить»
в приложении Office
Access для Office 365 (версия Microsoft Store)
18 ноября 2019 г.
Откройте магазин Microsoft Store
Нажмите на . в верхнем правом углу
Выберите «Загрузки и обновления».
Если вы столкнулись с этой проблемой до выхода исправления, в качестве временного решения рекомендуется обновить запрос, чтобы он обновил результаты другого запроса, а не обновлять непосредственно таблицу.
Например, если у вас есть запрос, аналогичный следующему:
UPDATE Таблица1 SET Таблица1.Поле1 = «x» WHERE ([Таблица1].[Поле2]=1);
Вы можете создать новый запрос (Запрос1):
SELECT * from Таблица1;
И обновить исходный запрос:
UPDATE Запрос1 SET Запрос1.Поле1 = «x» WHERE ([Запрос1].[Поле2]=1);
Заменив все указания Таблицы1 на Запрос1
Это позволит получить такие же результаты и избежать ошибки.
При необходимости также можно удалить обновление.
Для сборок MSI см. следующую статью:
Для Office 365 см. следующую статью:
Дополнительные ресурсы
Общение с экспертами
Обращайтесь к экспертам, обсуждайте новости, обновления и рекомендации для Excel, а также читайте наш блог.
Задавайте вопросы сотрудникам службы поддержки, MVP, инженерам и другим пользователям Excel и находите решения.
Предложение новых функций
Мы будем рады вашим отзывам и предложениям. Вам наверняка есть, что сказать. Поделитесь с нами своими мыслями.
HOW TO FIX ACCESS "CANNOT OPEN DATABASE" ERROR
MS Access is one of the highly organized database management system offered by Microsoft. Being used in a number of small and large business setups. Now it has become popular among users due to its user centered interface and functionality. In access database the data gets stored in proprietary ACCDB file format that can directly link or import to data saved in other database or applications such as excel, xml, html, SharePoint and outlook etc. Inspite of being such awesome application, sometime this application get stuck to the issues like database corruption and starts displaying error like "Cannot Open Database" Error.
Want to know how can you fix this issue? For this just read the below mentioned solution.
Practical scenario:
I have also cited in preceding editorial that when we contract with PC and where vital data is main anxiety, corruption occurs if we abandon minor issues with or without information. No system file is resistant to data damage. They are numerous reasons which may turn access corrupted.
Virus: Most ordinary cause behind file corruption. A virus could also transmit from exterior media or contaminated website could imitate in background and makes changes in file traits, formats or removes file from PC.
Improper Shutdown: It's very rare that PC is used to run a gigantic file management scheme, runs without a power backup. But if power backup fails; all devices involves Access Database server will guide indecent shutdown. During this breakdown there was any work being executed on database, and Access database may get inaccessible.
Program Force-Exit: Sometimes we operate manifold programs on PC at same time that can hang your system for a moment. Throughout this assembly if you vigorously outlet MS Office Access, then this may also corrupt your database and then you have to repair database file.
If the data loss is accidental, Access database is typically damage after data recovery operation. With errors as improper data synchronization or disk failure, it could get corrupted and thus we want a trusted solution to repair MS Access Database.
5 Simple Tips to Prevent MS Access Database Corruption
Is your MS Access Database corrupted? Are you looking to fix Access Database corruption? If "yes" then follow the below 5 effective tips to avoid MS Access Database corruption:
Split your database – The most important thing you can do to avoid Access corruption is to split your database into "front-end" and "back-end". The front-end stores the forms, reports, and data access page while back-end has tables containing your data. You can place a copy of your front-end database of each system on local hard drive and link back the table that are stored on the fileserver. By doing so less data will be dragged from the network and there will be less chances of the corruption. Beside this your database will run fast and you can also make changes to the front-end while still using live data.
Never leave the database open – It is suggested because most backup program automatically starts to take backup even if they are open and hence most of the users leave the database open. But this is not the correct way, it will only increase the chances of corruption and therefore it is requested that you must close you application even during your lunch time.
Exit the database properly – It is always suggested that you must close database or any application properly. If you forcefully close the database by using Ctrl-Alt-Delete/End Task then it can create problem and may corrupt your Access database. It is always suggested that you must finish your task and then exit the application by using the File>Exit Menu option.
Must keep updated drivers of your device – Outdated driver of your device can create corruption, hence you must try to keep them updated as much possible. As per Microsoft, almost 80% of Windows users face this problem. So, when so many users reports problem & bugs with drivers, the company update them quickly. So, it is also your job to check whether update has been released or not and must keep the device driver updated always.
Compact and repair regularly – This is the inbuilt utility that comes with Access application. You must perform this feature in regular interval of time to enhance performance and to avoid corruption of Access database. You can set this function to perform automatically to compact and repair your entire database daily or weekly.
Common Factors Responsible for the Corruption of Access Database
There are so many factors which can damage MDB files of Access Database. Some of the common factors are mentioned below that can corrupt MDB files:
Faulty Networking Device – MDB files can get damage due to faulty networking device when you try to access database files remotely. The fault can be in interface cards, routers, network cables and hubs. To fix this issue, you must replace the faulty network device.
Abnormal or Acc >So, these are some common factors that can damage or corrupt the MS Access database file, However, minor corruption can be fixed with built-in compact and repair utility but for severe corruption one can use MS Access Repair and Recovery software.
About MS Access Database Repair Software
Access Database Repair is software that is particularly designed to repair corrupt or damaged MS Access database files. It comes with powerful algorithm that scans even severely corrupted access database files. It also has highly interactive GUI that helps user to easily operate and repair Access database without making changes in the original structure of the file. It easily restores damage or corrupt tables, queries, indexes and other data. This tool can easily fix all minor and major database errors and problems of MS Access 2013, 2010, 2007, 2003, 2002, 2000 on almost all version of Windows operating system such as Windows 8/7/Vista/XP/2003. Free trial version is available that you can install to check the features and reliability of the software.
Fix MS Access Database Error 3049: Cannot Open Access Database
Summary: The blog summarises information on MS Access database and the file formats it uses to store its data. It also describes the method to retrieve access to data in case the Access error 3049 'cannot open database' pops-up. Also, it describes the reasons that cause Access file corruption and the alternate solution to securely recover data objects.
MS Access is one of the highly organized Database Management system offered by Microsoft. Being used in a number of small and large business setups, it has become popular among users due to its user-centered interface and functionality. In Access Database, the data is stored in a proprietary ACCDB file format that can directly link or import to data saved in other databases or applications such as Excel, XML, HTML, SharePoint, and Outlook, etc.
In the previous versions of MS Access database i.e., MS Access 2003 and earlier, the data was stored in MDB files; this is the reason why the application displays Microsoft Access error 'Cannot open database. It may not be a database that your application recognizes, or the file may be corrupt ' when the user attempts to access it in any of the latest versions.

Access 2007 and later versions incorporate advanced features such as data macros, multivalued fields, publish to Access services, etc. Since these features are not available in earlier editions of the application, therefore, the files don't open in the newer versions.

Identify Reasons for Access Database File Inaccessibility
To be able to get the correct solution, it is important to know the actual reasons behind the cause. If you can't open ACCDB file in Access, it is probable that the file has turned corrupt. Corruption is a frequently recurring issue that makes the ACCDB file data inaccessible. In such situations, it becomes important to retrieve data from the corrupt file using a reliable third-party application.
There are other reasons as well that leads to ACCDB file inaccessibility Error. This includes:
Hardware or software inconsistencies and conflicts.
File damage due to storage of large volume data.
Unintentional deletion of data or storage media format.
When structure or header of ACCDB file is damaged.
The database is restored from invalid backup.
Incompatibility of the file created in Access 2003 or earlier versions.
How to fix Access cannot open database error 3049
There are many ways to fix MS Access cannot open database error and these are as follows:
Convert Access MDB File to ACCDB
However, Access offers a manual procedure that can help export data from previous MDB versions to the latest ACCDB in order to view the incorporated content. To get started, it is imperative to close all programs and files associated with MS Access. The process must be executed in Access 2007 and later versions. Follow the steps below: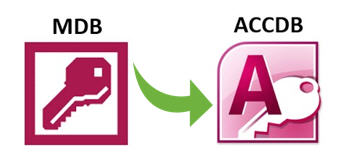 Open MS Access, click on the File tab and click on Open.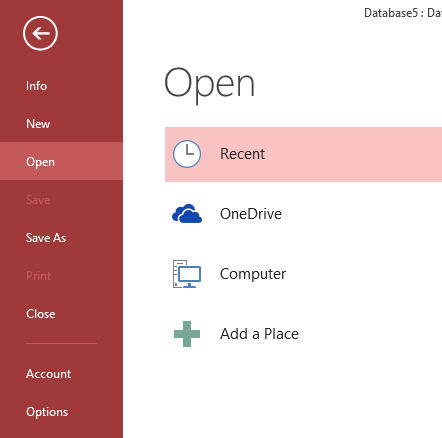 In the Open dialog box that appears, open the Access MDB file that needs to be converted to the ACCDB file format.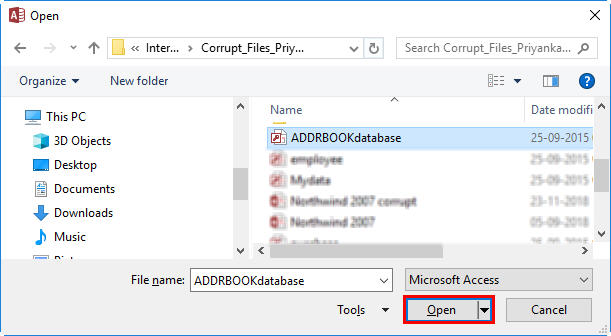 Under the Database File Types, click on Access Database (*.accdb).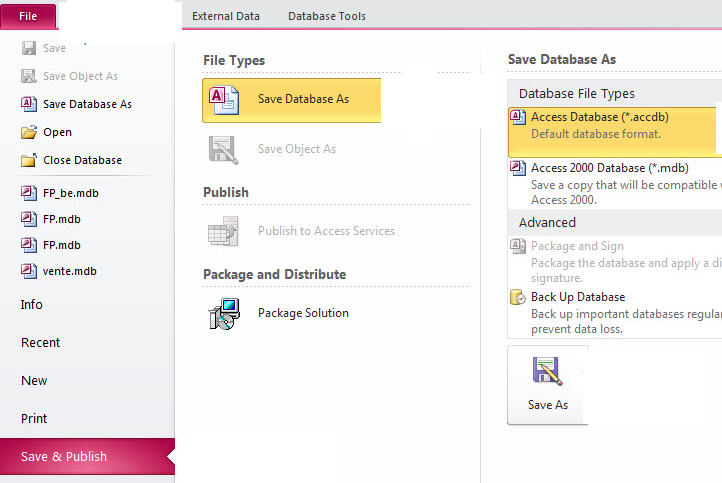 Click on Save & Publish.
If any of the Access database objects are open at this stage, the application will prompt to close them first and then proceed. Click on Yes to instruct the application to close the object or alternatively click on No if you want to cancel the entire conversion process. Access will then prompt to save the changes being made recently (if any).
Next, provide a name to the converted file in the File name field and click on Save
A copy of the database will be created and opened by the application. The original database will be automatically closed by MS Access.
Restore from Backup – The Best Alternative
The best way to gain accessibility to Access data file after encountering can't open Access database error message is to restore from the most recent backup. However, it is required that you must have a valid backup of the Access file. It is recommended backing up the Access database on the set schedule to safeguard data against corruption and loss. In case no backup is available, then you can employ Stellar Repair for Access software to resolve Microsoft Access Error 3049 cannot open database. The access repair software retrieves all deleted, formatted, or lost data from the ACCDB file.
Follow the Step-by-step guide to fix access error 3049 cannot open database error:
About The Author
Priyanka
Priyanka is a technology expert working for key technology domains that revolve around Data Recovery and related software's. She got expertise on related subjects like SQL Database, Access Database, QuickBooks, and Microsoft Excel. Loves to write on different technology and data recovery subjects on regular basis. Technology freak who always found exploring neo-tech subjects, when not writing, research is something that keeps her going in life.
Access is denied error when attaching a SQL Server database
By: Simon Liew | Updated: 2016-12-05 | Comments (5) | Related: More > Database Administration
Problem
Two database administrators are members of the local server Administrators group on a SQL Server machine and they also have sysadmin rights on the SQL Server instance.
The following scenario occurs:
DBA one detached a database using his/her Windows login
DBA two tries to attach the database using his/her Windows login. DBA two is unable attach the database with error below. DBA two then connects to the SQL Server instance using a SQL login which has sysadmin privileges and is still unable to attach the database with the same error message.
Solution
When a database is detached using a Windows login, the detached mdf and ldf file permissions will be set to only the Windows login that detached the database. The database files permissions need to be granted explicitly to allow either the Database Engine security identifier (SID) NT SERVICEMSSQLSERVER or the Windows login that attempts to attach the database.
When the database is reattached, the database files permissions will be set to the Database Engine SID and the individual Windows login privileges will be removed.
Below are the steps to depict this scenario on SQL Server 2016 Developer Edition. Two domain user accounts are created — SQLAdminOne and SQLAdminTwo. Both user accounts are added to the Windows server local Administrator group and granted sysadmin privileges on the SQL Server instance.
Step 1: Create TestDB database
Step 2: Check TestDB file permission for mdf and ldf
Step 3: SQLAdminOne detaches TestDB database
Step 4: Check TestDB file permission for mdf and ldf again
The database files mdf and ldf permissions have changed and full privileges are only granted to SQLAdminOne.
Step 5: SQLAdminTwo tries to attach TestDB database
When SQLAdminTwo tries to attach the database, an access denied error is encountered because of limited permissions on the database files.
This is the error message.
Step 6: Grant full permission on both TestDB mdf and ldf files
For SQLAdminTwo to be able to reattach the database, full permissions on the mdf and ldf needs to be granted to either the Database Engine SID NT SERVICEMSSQLSERVER or the Windows login of the DBA who attempts to reattach the database. In this tip, SQLAdminTwo is granted full privileges on the database files.
Step 7: Reattach TestDB database
SQLAdminTwo now attaches the database and the operation is successful.
The database files permission is now reset to the Database Engine SID NT SERVICEMSSQLSERVER. The Windows login privileges for both SQLAdminOne and SQLAdminTwo were removed.
Summary
SQL Server sets database file access permissions when a database is attached or detached using a Windows login. This behavior is not applicable when using a SQL login to attach or detach a database as the SQL login will be using the Database Engine Service SID for the operation.
SQL Server 2005 introduced trace flag 1802 which retains the database files permission after the detach operation. The trace flag is tested and still applicable with SQL Server 2016.
This behavior is not a bug, but rather by design to make sure the login attaching the database has sufficient permissions on the files and not leveraging the SQL Server service account to attach files they do not own.
This behavior is documented on Database Detach and Attach (SQL Server) «Security — File access permissions are set during a number of database operations, including detaching or attaching a database.»