Mail merge word
Mail merge
In this course:
To show how mail merge works, let's start with an email message. You start with a main document, attach a list of recipient information, and add mail merge fields. Then Word automatically fills in the fields with recipient information and generates all the individual documents.
Insert mail merge fields
Word includes the Greeting Line and Address Block fields, which add all the fields for a greeting or address, so you don't have to add each field one at a time.
For example, to add a standard greeting to your email message or letter, use the Greeting Line merge field.
Click where you want to add the greeting.
Click Greeting Line.
Choose the name style that you want to use, and set other options.
To make sure the field is formatted the way you want, highlight the whole field, including the marks at each end.
Click HOME, and then check the font and font size.
Click Line Spacing to make sure the line spacing matches the spacing in the rest of your document.
After you add the fields you want to merge, type the information you want to be the same in each email message you send during the merge.
Add individual fields
If you want to add a customized greeting or other information from your mailing list, you can add fields one a time.
Click in your document where you want to add the mail merge field.
Click the arrow next to Insert Merge Field, and then click the field name.
If you don't see your field name in the list, click the Insert Merge Field button.
Click Database Fields to see the list of fields that are in your data source.
Click the field you want to add.
Want more?
Mail merge is all about mass mailings that you individualize for each recipient.
You can add individual elements to any part of a label, letter, envelope, or email, from the greeting to the entire document, even images.
You start with a main document, attach a list of recipient information, and add mail merge fields.
Then Word automatically fills in the fields with recipient information and generates all the individual documents.
In this course, we'll start with email, then move on to letters and envelopes.
Here's a quick way to get started.
On the MAILINGS tab, click Start Mail Merge and Step-by-Step Mail Merge Wizard.
Select the type of document you want to add mail merge to, and click Next.
Here you can start a new document from a template or existing document.
Since our document is already open, we'll select Use the current document.
A recipient list can come from one of three places: an existing list, such as a mailing list you created in Microsoft Excel, Microsoft Outlook contacts, or you can type a new list.
Let's say we want to send the email to customers in our Outlook contacts.
When you select this option, you also need to choose which contacts folder to use.
Choose an Outlook profile if you get a prompt.
I've already created a folder in Outlook to hold my customer contacts.
So, we'll select that one and click OK.
And Word adds the contacts to a recipient list.
If you want, you can check through the list and edit it before you run the mail merge.
For example, if you have a large list, you may want to send email in chunks.
You can click the arrow next to Last and sort the list in ascending order.
Uncheck the box at the top to uncheck all the contacts.
Then, start by sending email only to contacts with last names that begin with B, C and D. When you're done, click OK.
Next, we'll add the mail merge fields to the email message. Let's keep it simple and just add a greeting line field.
Delete the one we have there now and click Greeting line.
First, select a format. We'll keep Dear.
But let's change the name format to something less formal.
And we'll keep the comma.
If there's a problem with a recipient name, Word inserts this generic greeting.
Let's change it to Dear Customer with a comma.
Down here, you can click through the contacts to preview the greeting line for each one.
When you're done, click OK.
And Word inserts the merge field.
Click Next, and Word temporarily replaces the merge fields with entries from the recipient list so you can preview how each email will look before it's sent.
This is particularly useful if your email contains a lot of merge fields.
If everything looks okay, click Next to complete the merge.
Click Electronic Mail, add a Subject line for the emails, and click OK, when you're ready to send them.
So the wizard can help you get up to speed with mail merge. But once you know the process, you can often go faster by entering options directly.
Up next, we'll do that when we print letters with mail merge.
Word 2010 — Using Mail Merge
Lesson 24: Using Mail Merge
Introduction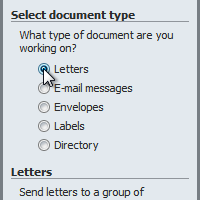 Mail Merge is a useful tool that will allow you to easily produce multiple letters, labels, envelopes, nametags, and more using information stored in a list, database, or spreadsheet. In this lesson, you will learn how to use the Mail Merge Wizard to create a data source and a form letter, and you'll explore other wizard features.
Mail Merge
When you are performing a Mail Merge, you will need a Word document (you can start with an existing one or create a new one) and a recipient list, which is typically an Excel workbook.
If you'd like to work along with the lesson, you can download the examples below.
To use Mail Merge:
Open an existing Word document, or create a new one.
Click the Mailings tab.
Click the Start Mail Merge command.
Select Step by Step Mail Merge Wizard.
The Mail Merge task pane appears and will guide you through the six main steps to complete a merge. The following is an example of how to create a form letter and merge the letter with a recipient list.
Step 1:
Choose the type of document you want to create. In this example, select Letters.
Step 2:
Select Use the current document.
Step 3:
Now you'll need an address list so Word can automatically place each address into the document. The list can be in an existing file, such as an Excel workbook, or you can type a new address list from within the Mail Merge Wizard.
From the Mail Merge task pane, select Use an existing list, then click Browse.
If you don't have an existing address list, you can click the Type a new list button and click Create. You can then type your address list.
Step 4:
Now you're ready to write your letter. When it's printed, each copy of the letter will basically be the same, except the recipient data—like the name and address—will be different on each one. You'll need to add placeholders for the recipient data so Mail Merge knows exactly where to add the data. If you're using Mail Merge with an existing letter, make sure the file is open.
To insert recipient data:
Place the insertion point in the document where you want the information to appear.
Select Address block, Greeting line, Electronic postage, or More items from the task pane.
For some letters, you'll only need to add an Address block and Greeting line. Sometimes, however, you may want to place recipient data within the body of the letter to further personalize it.
How to Use Mail Merge in Microsoft Word
Mail Merge is most often used to print or email form letters to multiple recipients. Using Mail Merge, you can easily customize form letters for individual recipients. Mail merge is also used to create envelopes or labels in bulk.
This feature works the same in all modern versions of Microsoft Word: 2010, 2013, and 2016.
In a blank Microsoft Word document, click on the Mailings tab, and in the Start Mail Merge group, click Start Mail Merge .

Click Step-by-Step Mail Merge Wizard .

Select your document type. In this demo we will select Letters. Click Next: Starting document .

Select the starting document. In this demo we will use the current (blank) document. Select Use the current document and then click Next: Select recipients .


Note that selecting Start from existing document (which we are not doing in this demo) changes the view and gives you the option to choose your document. After you choose it, the Mail Merge Wizard reverts to Use the current document.

Select recipients. In this demo we will create a new list, so select Type a new list and then click Create .


Create a list by adding data in the New Address List dialog box and clicking OK .

Save the list.
Note that now that a list has been created, the Mail Merge Wizard reverts to Use an existing list and you have the option to edit the recipient list.

Selecting Edit recipient list opens up the Mail Merge Recipients dialog box, where you can edit the list and select or unselect records. Click OK to accept the list as is.

Click Next: Write your letter .


Write the letter and add custom fields.

Click Address block to add the recipients' addresses at the top of the document.

In the Insert Address Block dialog box, check or uncheck boxes and select options on the left until the address appears the way you want it to.

Note that you can use Match Fields to correct any problems. Clicking Match Fields opens up the Match Fields dialog box, in which you can associate the fields from your list with the fields required by the wizard.


Press Enter on your keyboard and click Greeting line. to enter a greeting.

In the Insert Greeting Line dialog box, choose the greeting line format by clicking the drop-down arrows and selecting the options of your choice, and then click OK .

Note that the address block and greeting line are surrounded by chevrons (« »). Write a short letter and click Next: Preview your letters .

Preview your letter and click Next: Complete the merge .

Click Print to print your letters or Edit individual letters to further personalize some or all of the letters.

Related V >
Dave Dunn, Webucator's CEO, joined Webucator in 2009 after serving as a CFO and COO for numerous small and medium-sized companies, including Summit Software Company, Insight Research Group, Avalon Consulting, and HealthcareOne. Dave received his Bachelor of Arts from Hamilton College and his MBA from Syracuse University. He has served as Chairman of the Board of the Montessori School of Syracuse since 2001.
Word Mail Merge Using Excel
LAST UPDATED: January 26, 2015 By Anne Hennegar
It's that time of the year when the k >
Contrary to popular belief, I don't dislike politicians. I like some. What I dislike is getting impersonal letters. I realize that in some cases, it makes sense to do a generic letter. In most cases, I think people can insert a little customization. This Word mail merge process isn't difficult.
Understanding the Mail Merge Process
It helps me to think of the mail merge process in terms of three files.
Mail merge letter with codes for the personalized fields
A data source file such as Excel that has a row of information for each recipient
Your final Word letter file with the personalized letters
The mail merge process uses Files 1 + 2 to create File 3.
The first step is to decide what to personalize. This requires knowing the content of your letter and your recipients. Using politicians as our example, they can get a CSV data extract about voters from their election office. This file usually contains fields for:
You may add other columns to meet your needs. For example, you might add a field called "Event". This could show an event time to meet the candidate.
Fixing Data Records before the Merge
Before writing your letter, you should check your data file. I don't think I've seen a data source file that didn't need correction. This is especially true if you didn't input the information. Some common problems I look for are:
Capitalization errors such as all CAPS
Duplicate records
Missing data
Initials as a first name
Missing apostrophes in last names (Oneill)
Misspellings
The top two items can be fixed using the Excel add-on ASAP Utilities. You don't need to worry about deleting columns you won't use in the letter.
You may need to worry about the First name field if you want to convey that you know someone. Your data source may have a formal name such as "Robert" but you know the person as "Rob". Salutations can also be an issue if you're not familiar with first names. I can attest to knowing female "Michael"s and male "Merideth"s.
I like to seed the file with a fictitious record for myself. I use this record to see how long it takes to receive the mail and to spot if anyone else has used the file. If I get a new mailing with that name and address, I know my source file is being reused.
Before saving your Excel file, make sure you have a header row with descriptive column names. This makes it easier to match and merge fields. There is a link at the bottom to download a sample Excel file.
Linking to the Data Source File
As with many tasks, Microsoft created a helpful wizard. Before starting, make sure you have created your recipient list with the fields you wish to use.
Open Word with a blank document or your letterhead.
From the Mailings tab, select Start Mail Merge
From the Start Mail Merge menu, select Step by Step Mail Merge Wizard.The Mail Merge task pane will appear on the right side of your screen.
Click the Next: Starting document link at the bottom of this panel. The Wizard advances you to Step 2.
Keep the default option for Current document and click the Next: Select recipients link at the bottom.
Click the Browse … link in the middle of the panel. This opens the Select Data Source dialog.
Navigate to your Excel file and click Open. This opens the Select Table dialog. If you named your Excel worksheet, the name will show. Otherwise, it will appear as Sheet1$.
Check the box at the bottom for First row of data has column headers.
Click OK. Your file name should show where the Browse… link was on the Mail Merge task pane.
Click Next again.
Adding your Address Merge Codes
The Mail Merge wizard should be on Step 4 of 6. Now that we've assigned the data source, we can insert the merge fields in our letter. The first code most people start with is the address. While you can insert merge codes for each address element, Word allows you to enter all the fields with an Address block.
On the Mail Merge task pane, click Address block… .The Insert Address Block dialog should appear.
Check the options that best suit your addresses.
Click the Match Fields… button in the lower right.
Fix any address fields that you'll use which show as (not matched) by selecting the proper field using the arrow control.
Click OK.
On your Word document, you should see «AddressBlock». This code represents the address fields you selected. And no, you can't wrap chevrons around your field names. You won't see any real data until you merge the information.
Adding Other Merge Codes
While adding address information is useful, you probably want some custom fields. These fields should have been defined on the Excel spreadsheet you linked. As example, you might tell people of an upcoming event. The process of inserting more fields is similar to the address block.
From the Mail Merge task pane go to Step 4 of 6.
Add your letter text up to the point where you want to insert the field.
Click More Items… from the task pane. The Insert Merge Field dialog appears.
Highlight your field.
Click Insert.
Your merge field should show next to your cursor. As before, the chevron's are wrapped on either end.
Pulling it All Together
Once you've created your letter and added your merge codes, you're ready to pull real data. If you glance at your Mail Merge task pane, you should be on Step 4 of 6. To see your letters with merged data, click Next: Preview your letters. Each merge code should show data from your Excel data source file. You should not see any codes.
While you may be tempted to print your letters, I would check several examples. In particular, look for addresses that need an extra line such as suites or apartments. This is also a good time to look for seeded records to make sure the correct fields imported. This can be done using the Find a recipient link on the panel. You can move through your letters by using the directional controls at the top of the task pane. If you don't like a record, you can exclude it from the set.
If you're using a window envelope or letterhead, you should print a sample letter to make sure the alignment. If it isn't, click the Previous link to go back to Step 4 of 6 and make adjustments.
Printing and Saving the Files
The final part of the wizard lets you print your letters. This is done by clicking Next: Complete the merge, which advances you to Step 6.

You'll note in the screen snap you can print your letters or edit individual letters. Even if my previews looked fine, I still like to click Edit Individual letters. One benefit is that it creates a separate file called letters1.doc. This file is useful if you need to keep a copy of what was sent. You can rename the file to something descriptive.
If the document you created is one that you plan to reuse, you should save it. When you save this document, you'll see one letter with prefilled values. You won't see the chevrons and field names. What's nice about saving this letter is it maintains the relationship with your data file and merge codes. The next time you open the file, it will read your data file and populate the merge codes. If you want to send to a different set of people, you edit your Excel file.
Creating a mail merge letter with Word and Excel may not win you an election, but it can set you apart. I think people prefer correspondence that is more personalized than a "Dear friends" letter.